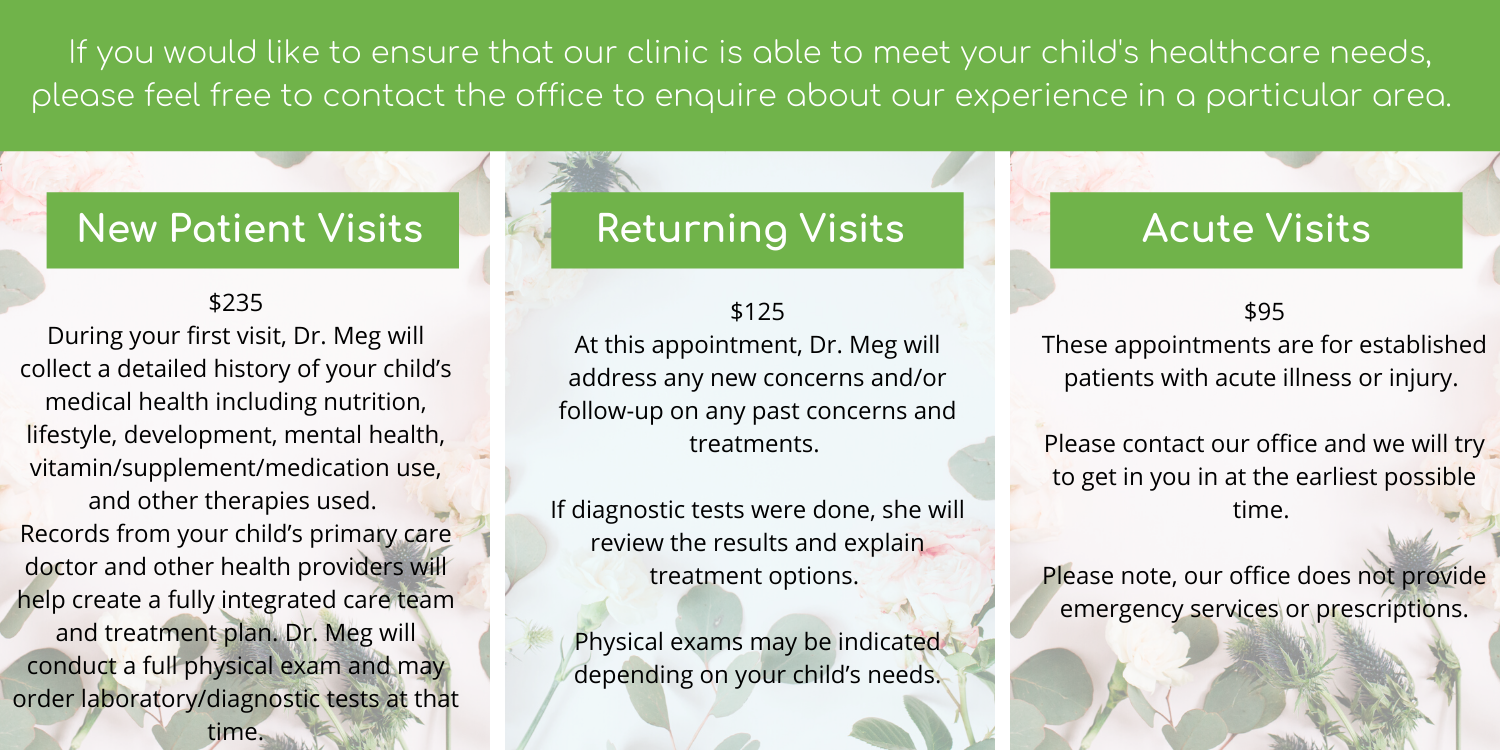 Dr. Meg evaluates each patient as an individual by designing specialized treatment plans enhancing overall physical and mental health.
She specializes in addressing the following conditions:
ADD/ADHD
Allergies
Asthma
Autism
Behavior disorders
Chronic infections (ears/sinus)
Colds/Flus
Down Syndrome
Gastrointestinal complaints
Mental illness (anxiety, depression, e.g.)
Skin problems (eczema, e.g.)
Sleep disorders
Weight issues (childhood obesity, eating disorders, e.g.)
​​
Dr. Meg works with you, your family, and your child to design treatments that are achievable, effective, and sustainable. Our therapies are natural and gentle which makes them well-suited for children's rapidly growing and developing bodies.
Your child's individual treatment may include the following:
Botanical supplementation
Diet/lifestyle recommendations
Vitamin/mineral supplementation
Homeopathy
Neurotransmitter support
Hydrotherapy
Naturopathic physical medicine
Integrative referrals
Referral for conventional therapies (e.g. prescriptions, vaccination, and specialty referral)
If you would like to ensure that our clinic is able to meet your child's healthcare needs, please feel free to contact the office to inquire about her experience in a particular area.
New Patient Visits
$235
During your first visit, Dr. Meg will collect a detailed history of your child's medical health including nutrition, lifestyle, development, mental health, vitamin/supplement/medication use, and other therapies used. Records from your child's primary care doctor and other health providers will help create a fully integrated care team and treatment plan. Dr. Meg will conduct a full physical exam and may order laboratory/diagnostic tests at that time.
Return Visits
$125
At this appointment, Dr. Meg will address any new concerns and/or follow-up on any past concerns and treatments. If diagnostic tests were done, she will review the results and explain treatment options. Physical exams may be indicated depending on your child's needs.
Acute Visits
$95
These appointments are for established patients with acute illness or injury. Please contact our office and we will try to get in you in at the earliest possible time. Please note, our office does not provide emergency services or prescriptions.
If your child is experiencing a life-threatening or serious emergency, please call 911 and contact your primary care physician.